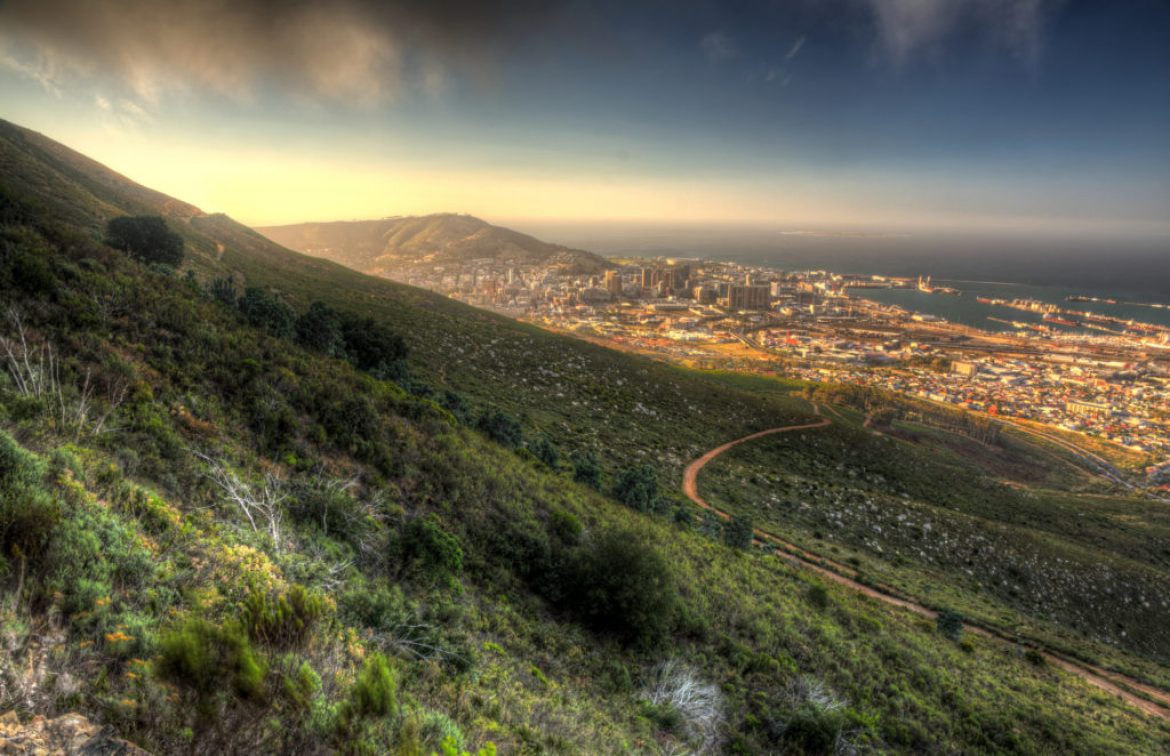 Newlands Forest to Devil's Peak / Hitec Lima M
I hiiked the Newlands Forest to Devil's Peak trail this afternoon ( and early evening ), starting at 5pm from the Newlands Fire Station Parking lot and moving up to Woodcutter's Path and right until you hit a fence. I then headed almost vertically up along the fence – probably not the best path seeing as it's quite narrow and overgrown. Nevertheless, you end up at the Contour Path and then can turn left to Newlands Ravine/Kirstenbosch or right towards Devil's Peak. I turned right and continued on the Contour Path passing above King's Blockhouse and moving around the the Peak. What's quite intense is the sound of timber creaking and cracking at the top of Newland's Forest – I was expecting something to come crashing down any moment but I guess that's pretty normal up here. My intention was to go to Woodstock Cave however I had already started an hour late ( due to work ) and the wind strength was high on that side of the Peak so I needed to turn back. I reached Newlands Fire Station at 8pm/sundown after a fairly brisk pace ( 3hr round trip ).
Things I brought with me:
water ( always )
a fleece sweater ( always )
a protein bar
Manfrotto 190 with 3-way head
my trusty Lowepro FastPack 100 which included
Nikon D7100
Sigma 17-50 2.8
Nikon 35 and 50 1.8's
Nikon 55-200
As this was the first time I had done this particular route, I didn't take a lot of photos but used this hike more like a scouting mission. There was a lot of cloudage around so the possibilities were few even considering I had the tripod with me. Nonetheless, it was tough but highly enjoyable and I'm looking forward to doing a similar trip in this area but up Newlands Ravine.
I'm still walking my new Hitec hiking boots in but thought I'd use this post to give some info on them – the Hitec Lima M currently on special at hi-tec.co.za for R499/half price. Seeing as they are still new, my observations may be a little premature but on the whole, I really like this boot. Starting at the back, the heel cuff is really comfortable and supportive without being too intrusive on the Achilles Heel ( as some hiking boots can be ). Inner comfort is decent although it could do with a bit more impact absorption. The boot, correctly laced, grabs the top of the foot and keeps it from moving too much, especially on downhills. I should have gone for a half size bigger but lack of stock meant that these are in fact a little too small for me. I'm not hitting the front with toes ( much ) but have had some chafing on my middle toe/right foot ( which is a little bigger than the left ) –  a thicker sock may solve this.
The outer sole/track is seriously good when it comes to grip, being very sure-footed with everything from smooth rock to gravel and soft sand. I've yet to go through water but I can't see that being a challenge for this boot. But that grip is due to a softer track and as a result, I'm seeing significant pressure on the metatarsal area/forefoot when rock hopping. I often use pointed rocks for grip and have seldom noticed any issue with my Hitec Yosemite's ( which are 15 years old now and still rock – excuse the pun! ). So there are pros and cons here and I'll just have to alter my hiking style to suite this boot. On the whole, this is fantastic value for money and for general hiking, there's not much that can beat this boot at the price.
Of course the Yosemites are in a different league altogether being waterproof leather boots designed for heavy hiking. They are no longer available ( you'd expect that after 15 years ) so an equivalent would be something like the Altitude 5 ( replacement for the Yosemite ), Chukka or slightly cheaper Eurotrek 3. If you want the Rolls Royce though of hiking boots then you can't go much better than the V-Lite Flash Hike but get your wallet ready – it ain't cheap.